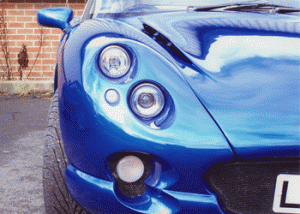 Having started carrying out cosmetic improvements for a local TVR dealer, we soon progressed to accident repairs and major works including upgrades & modifications. Through the years we have also carried out a lot of warranty work for the TVR factory in Blackpool.
Recommendations soon meant that we have built our own customer base which has led to various insurance companies recognising that we are a reliable choice, repairing cars for customers especially where their own 'approved' repairers can not.
Custom modifications
Inevitably along the way clients have asked us to improve & modify their cars so we have carried out many headlamp and rear lamp conversions as well as fitting various spoilers and bonnet modifications. The fitting of clear indicators in the older cars has proved very popular as well as the 'Carizma' head light conversion & we have recently started fitting stainless steel dashboards into Chimearas to replace the wooden type which are often prone to crack and peel.
Chassis repair & out rigger replacement / free inspection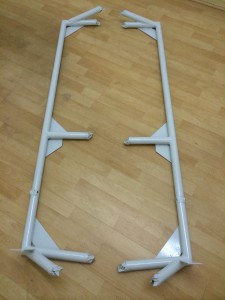 Chassis & outrigger care & repair becomes increasingly important. We have seen over the last few year an increasing amount of chassis which require attention. We offer a free chassis inspection service, usually on a Saturday morning when we can put the vehicle up on the ramp for a thorough check. This can also coincide with waxoyl application should no replacement or repair be required. We fabricate and fit outriggers as well as chassis repair and have a couple of excellent offers on the site.
Complete TVR paint colour library
We have spent a lot of time building up a complete TVR colour library so colour matching is never too much of a problem. We also stock a comprehensive library of the special colours that TVR have a reputation for using such as the 'Chameleon & Reflex' flip paints as well as the Halcyon & rosso pearl 2 & 3 coat systems.
Growing reputation for Ferrari repairs
We are now building a reputation amoungst the Ferrari fraternity having carried out many repairs for owners and are building a good working relationship with local Ferrari specialist, Shiltech Performance Cars.
As with TVR, word of mouth has enabled us to be recommended by Ferrari owners from all around the country and we have established an excellent reputation for our quality, knowledge and an understanding of these types of cars – a knowledge that has benefited from being enthusiastic owners of both marques ourselves.
TVR services
Insurance Repairs
Accident Repairs
Cosmetic Enhancements
Stainless Steel Dashboard Conversions
 Bodywork Upgrades, including:-
– Speed Six & Type R Headlamp Upgrades
– Later TVR Four Pod & Afterburner Real Lamp Upgrades
– Clear Indicator Upgrade for Earlier Cars
NEW Carizma Chimaera Headlamp Upgrades
NEW Carizma Chassis Outrigger Sets
Chassis Cleansing and Wax Oiling
Valeting Service
Wheel Refurbishments and Customising
Seat & Trim Repairs
Hood & Rear Screen Repairs and Replacements
Ferrari services
Insurance Repairs
Accident Repairs
Cosmetic Enhancements
Metal Fabrication – i.e. Corrosion Repairs
Body Styling Upgrades, including:-
-Spoilers
-Colour Coding
Body & Chassis Cleansing and Wax Oiling
Wheel Refurbishments and Customising
 Valeting Service
Seat & Trim Repairs
Hood & Rear Screen Repairs and Replacements