BLACK LEATHERETTE ROOF BAGS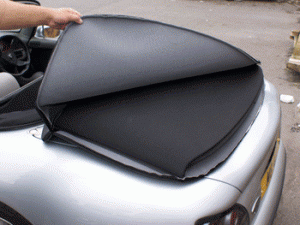 High quality roof bags for Chimaera and Griffith roof panels and Tuscan rear screens.
These attractive, protective bags have a 3/4 zip for very easy insertion and removal.
The interiors are lined with a cushioned foam lining and will provide your roof with ample protection.
A fantastic addition to any boot.
In stock was £59.99 (including VAT) sorry out of stock
We do have Tuscan rear screen bags (last few grab bargain) £44.99 
Delivery available on phone orders – call us on 01664 500111.
CARIZMA HEADLAMP UPGRADE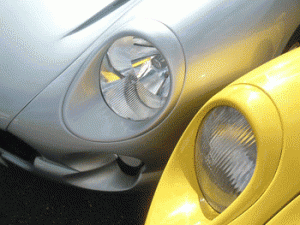 The 'Carizma' is the headlamp upgrade that will keep both the traditionalalists and the modifiers happy by retaining the original lines but with a sharper image and notable performance enhancements.
High quality, modern enclosed Magneti Unit. Tough sealed acrylic lens alleviates condensation problems and prevents dirt ingress.
NO PAINT WORK NECESSARY
Available now, supplied and fitted
for the web offer price of £499 (+VAT)
Call us on 01664 500111 for further details.
CARIZMA CHASSIS OUTRIGGER SETS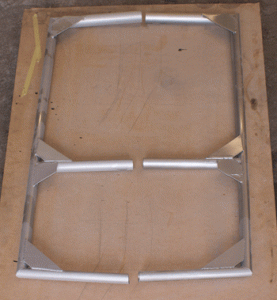 Due to increased problems with chassis out riggers corrosion, Carizma have produced our own jigs to provide outrigger sets for all common TVR models.
The outriggers are made from a very strong, light-weight steel. We prepare and paint the new chassis parts to the required colour and fully wax oil them when fitted.
Both methods of fitment ('body on' or 'body lifted') can be carried out in-house depending on budget and customer requirements.
Example costs:
Chimera body lifted = £1750.00 (+VAT)
Chimera body in situ = £1250.00 (+VAT)
Call us on 01664 500111 for further details.
Steaming Hot Packages
Steamy Under Carriage
Body check, under chassis steam clean (this removes salt
and road filmy residues), loose 'flaky' paint removal, zinc base,
recoat and wax oil.
Only £139.99 (incl. VAT)
Standard wax oil only £84.00 (incl. VAT)
Hot Wax Body Massage
A 'Steamy Under Carriage' plus full valet including interior leather treatment, full body machine polish and chip touch-up (if required), screenwash top-up and levels check.
Only £249.99 (incl. VAT) – An ideal gift package!
Call us on 01664 500111 for further details.